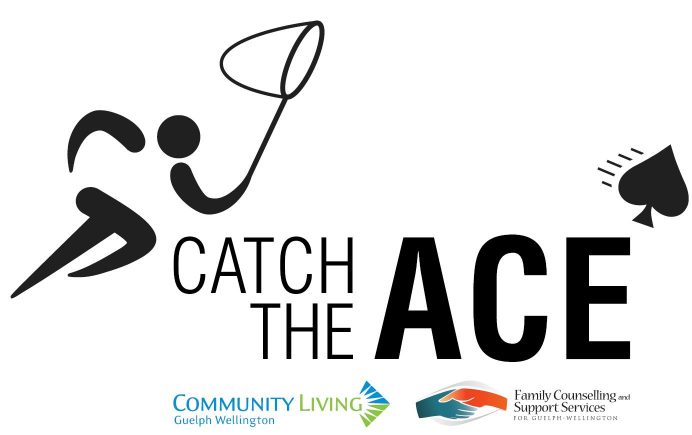 Congratulations to Lindsay Old of Guelph, ON whose winning ticket earned her the Week 10 draw prize of $134. Lindsay chose envelope #15 which contained the Ace of Spades, winning the progressive jackpot valued at $721.50.
This concludes Catch The Ace lottery, AGCO license #9467.
Thank you to everyone who participated in support of the charitable programs at FCSSGW and CLGW!
Exciting new fundraiser…
Family Counselling and Support Services for Guelph-Wellington, (FCSSGW) and Community Living Guelph Wellington (CLGW) are thrilled to announce that we have started a Catch the Ace progressive lottery fundraiser – an exciting new game that gained popularity in the East Coast provinces, where jackpots have grown to millions of dollars, and people traveled from all across the province to play. (Read more.)
Catch the Ace is a weekly draw with two prizes up for grabs each week: a weekly prize, issued to the person whose ticket is drawn; and a progressive jackpot that grows every week until it is won.
Catch the Ace has the potential to become a regular community event and generate major fundraising dollars for FCSSGW and CLGW – with proceeds going towards capital expenses at FCSSGW and towards program expansion opportunities at CLGW.
On the East Coast, Chase the Ace draw nights became a community gathering. We're hoping that the communities of Guelph and Wellington County will embrace this new event, buy tickets and come to the weekly draws held at CLGW on 8 Royal Road in Guelph.