33rd Annual General Meeting
Board members, staff and volunteers joined together in-person and online for our 33rd Annual General Meeting on Tuesday, September 22.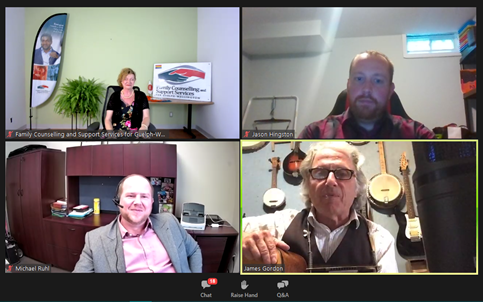 Our keynote speaker was Guelph's very own James Gordon, who is a Canadian playwright, musician, producer, mental-health advocate and city counsillor. Mr. Gordon participated virtually, entertaining us with his music and insight, and he provided a gift to everyone who registered for the meeting.
The evening was devoted to celebrating resilience in appreciate of the mentally and physically demanding work FCSSGW staff and volunteers do to support others. It also commemorated the numerous agency accomplishments of 2019-2020, which included acquiring TorchLight and assuming the Distress and TeleConnect Lines, moving the agency's Guelph head office to 20 Shelldale Crescent to improve and expand services all while providing essential services throughout the pandemic.
For a copy of the agency's annual report, click here.