Free Same Day Mental-Health Clinic Coming to Harriston, Surrounding Area
Thanks to a grant through the Emergency Community Support Fund from United Way Guelph Wellington Dufferin, the town of Harriston and the surrounding area in Minto County will now have access to 100% fully funded same day mental-health services through Family Counselling and Support Services for Guelph-Wellington (FCSSGW).
The weekly clinic is set to start on Tuesday, July 28, 2020 and will be virtual in nature to begin. Clients will be able to call in to arrange a same-day appointment between 11 am – 6 pm with a registered therapist. Brief therapy will be offered in follow-up sessions as required. The physical office will reside in LaunchIt Minto located on Elora Street North in Harriston.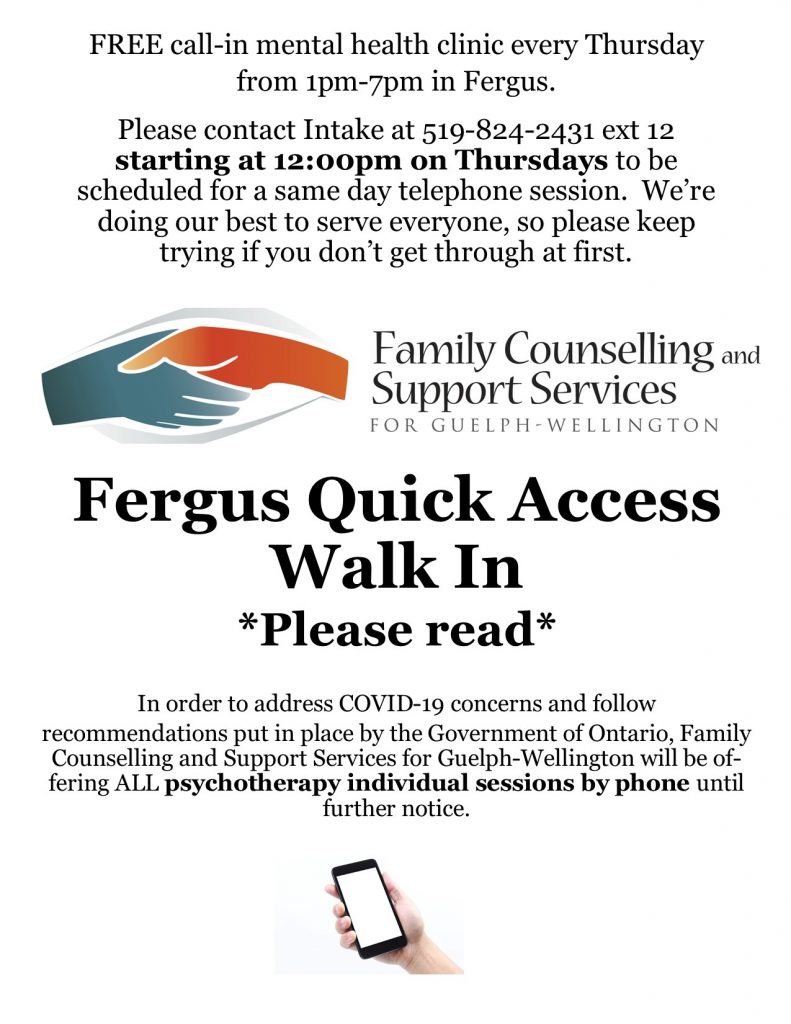 "We are excited to welcome Family Counselling and Support Services for Guelph-Wellington to Minto. The service provided by FCSSGW will support the mental health and wellbeing of residents within the Town of Minto and surrounding communities, including members in the agricultural community," said Jessica Dettman, Minto Mental Health Coordinator/Children's Programs Coordinator.
"Mental health related services and supports are often less accessible and available in rural communities. Rural communities such as the Town of Minto and surrounding areas have felt the direct impact of these barriers to accessing mental-health services, which emphasizes the need for greater support services in our area. Individuals living in rural communities often have to travel to urban areas to access the services they require, however with the FREE Same-Day Counselling coming to Harriston, we are hopeful that community members will receive the appropriate mental-health support they need in a timely and affordable manner."
Mental-health issues can escalate quickly and having access to early intervention through same-day services delivered by expert therapists means clients can expect to leave the clinic with an action plan and hope.
"We have seen mental health struggles impact rural communities especially hard and have been advocating to make this service available for a long time. Clients ranging from farmers in distress, families coping with youth depression, students with school and social pressures, and more have found hope in an otherwise tough time," said executive director Joanne Young Evans.
Funding for the clinic runs until March 31, 2021, and FCSSGW is hopeful it will be able to find funding to continue this critical service. More information about call-in times, contact numbers, and protocols will be made available closer to the launch date.